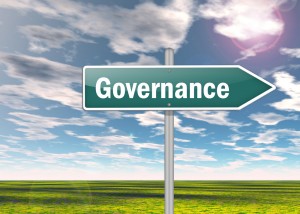 Liberty means responsibility.
That is why most men dread it.
– George Bernard Shaw
Our last several articles focused on medical group meetings because that is where much of the work of governance is done.
It's now time to take a broader look at practice governance: what it is, why it's important, and what is its role in a medical group.
What Is Governance?
What is governance? The definition I suggest is "a set of structures, processes and rules, established by the group, that guides the group in doing business with each other and with external parties, and steers the organization toward the accomplishment of its vision."
Governance is not just for large medical groups – every medical group (big or small, one that uses a Board or includes all physicians in decision-making) needs the following from its system of governance:
Strategic Planning – Set Mission and Vision
Move Group Towards Strategic Goals – Decision-Making
Oversight
Deal with Disruptive Physicians
Evaluate Management
Evaluate Board Performance
Over-communicate with Constituents.
We will cover each of these areas in depth in future articles. Before we do, let's address why effective governance has become a critical survival skill for medical groups.
Why Is Effective Governance Important?
Why is an effective system of governance so important for medical groups? There are several reasons:
Environmental challenges: Medical groups face an unprecedented number of environmental challenges. Threats to reimbursement, increasing costs, increasing competition – all these drive the need for medical groups to develop plans and make decisions that will optimize their situation. The good old days when groups could lope along with an ineffective system of governance are over.
Change is accelerating: The volume, momentum and complexity of change in healthcare is accelerating. Medical groups need to develop governance systems that help them develop strategies and make decisions on a timely basis – otherwise opportunities are lost and threats cannot be avoided.
No one is in charge: In most medical groups, there is not one individual who can develop the group's strategic plan and make all decisions. There has to be some collaborative decision-making. If the collaboration process doesn't work well, it's hard for a group to get anything accomplished.
In our next article we will look at why medical governance is so hard to achieve, examples of dysfunctional governance systems, and how medical groups are different from other organizations.
Please contact me if you'd like to discuss this post.
Will Latham
wlatham@lathamconsulting.com